Who says a good knife has to take up room on your belt? The TOPS MSK 2.5 Knife gives you all the cutting power you need in a punch in a small package that fits right around your neck. If the knife looks familiar, that's because it is descended from the company's BROS-01 (Brothers of Bushcraft) knife, which featured the same design but on a much larger scale. The Mini Scandi is an excellent safety knife for virtually anyone.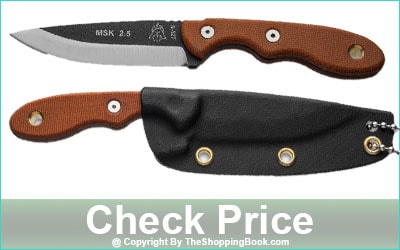 The Blade of TOPS Knives MSK-2.5
The Tops Msk 2.5 lives up to its mini designation. The blade is only 3 inches long. The entire knife measures just 6 1/8 inches, with a blade thickness of 1/8 inch. The blade is made from 1095 high carbon steel, the same grade as found in a variety of other high-end knives. 1095 is a type of blue spring steel, valued for its ability to spring back to true, rather than bend or break under force.
High carbon steel is also able to take and hold an edge better than stainless steel, and while it does require a bit more maintenance to prevent rust, that's not a bad sacrifice. With that being said, TOPS uses a black coating on the blade to dull reflection as well as to impart a measure of corrosion resistance.
The TOPS Knives Mini Scandi Knife MSK-2.5 features quite a few innovative adaptations from its larger cousin, the BROS-1. First among those is the Scandinavian grind (hence the Scandi moniker). A grind is the blade's cross-section shape and usually has little to do with the type of blade in question.
This is also called a "saber" grind or "V" grind and is often found on tactical and military-grade knives. The Scandinavian grind provides superior edge strength combined with excellent sharpness. The Mini Scandi features this type of grind for a longer-lasting edge in comparison with other grinds.
The Handle of TOPS MSK-2.5 Fixed Blade Knife
The handle of the Mini Scandi is made of micarta (tan canvas is the specific color), and both handle scales are securely bolted to the full tang underneath to ensure no movement or slippage of the handle during use.
A lanyard hole in the bottom of the handle offers access if you want to attach a lanyard to it. However, the sheath also comes with a hole for a lanyard (or the included metal chain) so it can be worn around the neck.
The Sheath of TOPS Knives Mini Scandi Knife MSK-2.5
The sheath is molded to fit the blade and upper handle perfectly, gripping it securely when the knife is suspended around the neck. The lanyard hole in the sheath is capable of accepting other ways to secure the knife, including carabineers, allowing the knife to be worn on a belt loop or somewhere else if you prefer.
What Is the TOPS Mini Scandi Knife Good For?
The TOPS Msk 2.5 Mini Scandi Knife is good for a variety of different tasks. It makes an ideal option for whittling or skinning bark, but it can also be used for skinning small game or as a small camp knife.
The blade's sharpness and ability to hold an edge for a long time even with hard use mean that you'll be able to count on this knife for years to come.
[tie_list type="thumbup"]
Pros
The blade made of high carbon stainless steel

leather sheath includes

It has a lanyard hole

Made from the USA

Handle made of micarta
[/tie_list]
[tie_list type="thumbdown"]
Cons
The handle size is small compared to the standard size
[/tie_list]
[button color="orange" size="big" link="https://www.amazon.com/TPMSK25-Fixed-Tops-Scandi-Carbon/dp/B004QAFMSA/" icon="" target="true"]Check the Latest Price[/button]
TOPS Knives
TOPS Knives is an American knife maker and has been in operation for more than 100 years. The company works closely with military, police, and SWAT forces, developing tools for safety and protection. All of TOPS Knives' tools are manufactured in the US, at the company's manufacturing facility located in the Rocky Mountains.
Read More: Bushcraft Knife Sharpener
As always, if you feel our TOPS MSK 2.5 Review has missed, feel free to drop us a line in the comments below.
Read More Reviews of: