The Morakniv Craftline Basic 511 is actually part of a family of knives that all share a set of specific characteristics. As the name implies, these are not traditionally used as survival or camping knives, however, the popularity of Mora knives as inexpensive providers of quality has made these particular models favorites amongst bushcrafters who seek high utility for low dollars. The Craftlines were designed for tradespeople, and are used in construction and the industrial sector. With a range of different blade styles and handle designs, any professional will find something to love in this family.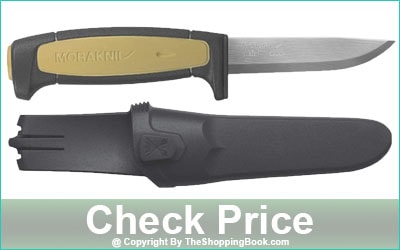 The Blade Details of Morakniv Craftline Basic 511 Knife
The Mora Basic 511 weighs in at only five ounces. The blade itself is just two millimeters in thickness, and is 96 millimeters long, giving you plenty of fine cutting ability.
The blade features a drop point design, with a gently sloping downward curve to the tip and a straight, smooth spine back to the handle.
The handle features an ergonomic grip design for comfort and usability, coupled with a pronounced finger guard to prevent slips and accidental cuts to the lead finger.
The Mora Basic 511 Knife features a high carbon blade – which means you benefit from excellent hardness but can sharpen the blade very easily. It's able to maintain a good edge as well.
While this is not a stainless steel blade, it's actually harder than stainless, which means a better edge and a longer-lasting blade in demanding situations.
However, because it is not stainless, care and maintenance are required to prevent rust and corrosion. The blade is manufactured from legendary Sandvik steel, which features ultra-fine carbides for superior forging.
Because of the ultra-fine nature of the steel carbides, these blades have unsurpassed blade smoothness, which relates directly to the blade's ability to cut well.
Made in Sweden, the More Basic 511 lines of blades are ideal for a range of skilled trades and professions where having a reliable, sharp, easily maintained cutting tool is important.
The Handle Details of Morakniv Craftline Basic 511 Knife
One benefit of the plastic handle construction and ultra-fine blade quality is the weight offered. The Craftline Basic 511 is part of the top family of professional knives. This particular model features a carbon steel blade and a plastic handle.
The Sheath Details of Morakniv Craftline Basic 511 Knife
It comes with a plastic sheath that is very basic but still useful. The sheath is made of black plastic and is very lightweight. The knife sits securely in the sheath when not in use, and the built-in clip allows it to be worn on the belt or clipped to a pocket. Mora offers a full 1-year warranty on the Morakniv Craftline 511.
What Is the Mora Craftline Q Allround Good For?
Although not originally intended as a survival or hunting knife, the high performance for little money has generated a very enthusiastic following among bushcrafters.
Actually, it's ideal for a range of different applications that require excellent cutting ability and that can benefit from a long-lived, durable blade. Traditionally, construction and industry workers use these knives for a wide range of things, as they can cut carpeting as easily as vinyl, and the precision-engineered blade offers some of the smoothest, most even cutting to be had in the market.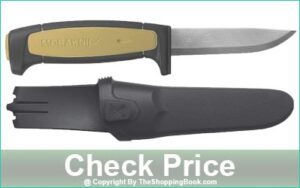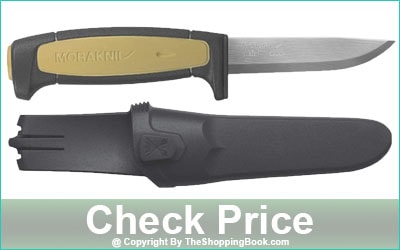 However, European belts tend to be narrower than American, so the belt loop is often too narrow.
This is easily overcome with heat and some stretching. Of course, the Morak Craftline 511 Fixed Blade Knife isn't all work and no play – it can easily fillet fish or be used in kitchen preparation as well.
It's versatile, durable, and well-rounded, making it one of the most adaptable blades available today.
Mora
Mora, or MORAKNIV, is a Swedish knife maker with a reputation for manufacturing some of the most versatile, flexible, durable tools in the industry.
The company makes everything from steak knives to gutting knives, utility knives, survival knives, bushcraft knives, and more. Mora also features a range of steel types in its products, including stainless steel and high carbon steel.
[tie_list type="thumbup"]
Pros
Knife made out of high carbon steel

The blade has a 1-year warranty

The same model also available on amazon

The rubber handle provides an excellent grip
[/tie_list]
[tie_list type="thumbdown"]
Cons
[/tie_list]
[button color="orange" size="big" link="https://www.amazon.com/Morakniv-Craftline-Carbon-Utility-Combi-Sheath/dp/B07CSZ53YD/" icon="" target="true"]Check the Latest Price[/button]
Final Verdict
If you're interested in world-class steel for under $10, then this is your knife, but don't expect the handle and sheath to necessarily follow. However, at this price, it's silly not to grab a few to throw in a glove box, bug out kit, or backpack because the utility functional utility factor is through the roof.
Read More: Best Survival Knife Sharpener
As always, if you feel our Mora Basic 511 Knife review has missed, feel free to drop us a line in the comments below.
Read More Reviews of: