The Marttiini Lynx Lumberjack is a knife that is likely to appeal to those who want to truly take things back to basics. With a traditional sheath, a simple wooden handle, and a very high-quality blade, this is really what bushcraft is all about. It might not be fancy, but the Lynx Lumberjack Knife is definitely full of the spirit of bushcraft.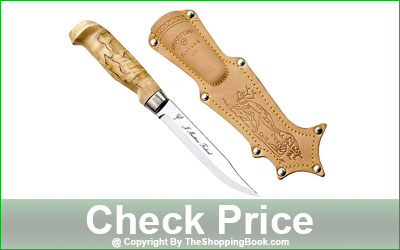 The Blade of Marttiini Lynx Lumberjack Knife
This knife is 9.00″ inches overall with a 4.75-inch blade. A front bolster provides a separation between the blade and your hand and the blade itself has a great design for a bushcraft knife. With a drop point that is slightly clipped – but not enough to take it into the territory of a Bowie – the Marttiini Lynx Lumberjack Fixed Blade Knife has a classic and proven design.
The blade is made out of carbon steel and is suitable for any outdoor application. This blade, however, because it is made out of carbon steel, does need to be oiled regularly. While these blades are great when you have to sharpen them and while they will hold an edge through a lot of abuse, they are prone to rust.
The Marttiini Lynx can be purchased with a stainless steel blade, depending upon the user's preference. With stainless steel, sharpening and edge retention are usually greater issues, but rust and maintenance aren't so much an issue.
The Handle of Marttiini Lynx Lumberjack Knife
The Marttiini Lynx comes with a nice looking handle. The handle is crafted from Finnish birch and coated with a nice polish. Also, the handle has a finger groove that ensures a better grip and enjoyable balance to the blade. This gives it a beautiful traditional look.
The Sheath Details of Marttiini Lynx Lumberjack Knife
The sheath is very high quality and definitely gets some points for style. Because the design is more old-fashioned and because many bushcraft enthusiasts will be accustomed to more modern designs. This knife comes with a leather sheath that has, really, an incredibly cool look to it. It is a simple sheath with a braided belt loop on it that holds the knife securely.
The Usefulness of the Marttiini Lynx Lumberjack Knife
This is a little bit smaller than many of the bushcraft knives out there, but it is a great size for just about anybody and offers an adequate cutting edge for just about any task imaginable.
Who Needs It Most?
Make no mistake about it, the Marttiini Lynx is a high-quality knife. The rough-hewn design shouldn't be confused with lacking materials or workmanship in any way.
That being said, this knife is great for people who really want to feel an authentic bushcraft experience. The knife looks feels and performs like the most basic tool imaginable, but when you combine that with very high-quality steel and excellent workmanship, you get a tool that could last for a very long time and really make going out in the outdoors feel like a genuine adventure.
This is the type of knife that you would want to hold in your hand before you decide whether or not you want to rely upon it when you're a long way from civilization and you need the best tool available. Where materials are concerned, however, it will not let you down. This knife is recommended for the hunter, camper, collector, etc.
[button color="orange" size="big" link="https://www.amazon.com/Marttiini-MN129010-Lynx-129-Size/dp/B00NUGGRHG/" icon="" target="true"]Check The Latest Price[/button]
Marttiini
Marttiini is based in Finland and has been in business since 1928. Aside from the quality of manufacture on their knives, the company prides itself on producing an incredibly sharp blade.
If factory sharp has ceased to mean anything impressive to you, you'll likely be pleasantly surprised when you unboxed a Marttiini knife. Even though some of their knives also feature a rather classic – even primitive – design, they are all designed with modern technology, including very efficient production methods that ensure quality across the board and computer design that allows the company to implement the newest and most effective ways to build a great knife.
Final Conclusion
Everything about this knife is designed to look like the backwoods tool that it is. If you fell in love with an antique knife that may have looked a little bit primitive by modern standards but that also looked like it was made with quality in mind, the Marttiini Lynx Lumberjack Bushcraft Knife may bring those memories back to you.
This is not a particularly expensive knife, despite its truly interesting design, so it's a great option for people who want a really authentic tool in their hand when they are performing bushcraft tasks and who tend to like things to have a classic look rather than an ultramodern one.
Read More: Best Survival Knife Sharpener
As always, if you feel our Marttiini Lynx Lumberjack Review has missed, feel free to drop us a line in the comments below.
Read More Reviews of: