Gerber manufactures some of the most versatile, highest quality knives in the world, so you would expect the Gerber survival knife to fit that reputation. It does so admirably.
This knife was designed by Jeff Freeman, a former military serviceman, and features a host of design adaptations and accessories that make staying alive in a survival situation possible. From tip to tip, this knife excels where others fail.
Specifications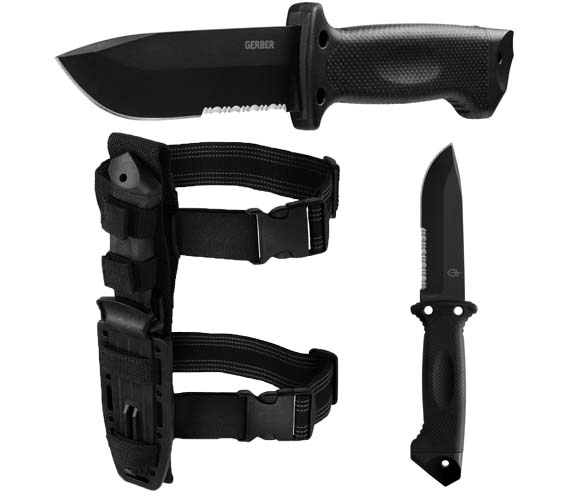 The best Gerber survival knife is built for one purpose – allowing you to survive in deadly, dangerous situations. It was designed with the Army in mind, where the blade served with the highest honors. Now, you get a chance to own this versatile blade.
The knife itself is 10.59 inches in length from end to end, with the blade accounting for 4.84 inches. It is a fixed blade design and weighs just 11.67 ounces without the sheath (the addition of which brings the combined weight up to 24.28 ounces).
The Blade Details of Gerber LMF II Survival Knife
The blade is made from 420HC stainless steel. The HC stands for high carbon, and 420 is capable of holding a good edge. While it doesn't hold that edge as long as D2 tool steel or 440 stainless, the greater affordability means that it's available to a wider range of buyers.
Because it's stainless steel, you'll only have a minimum of maintenance and care necessary to keep it in like-new condition. As a note, the sheath carries a built-in knife sharpener, so even if the blade does dull through use, refreshing that edge takes only a few seconds.
The Gerber LMF II features a drop point style blade, but while other blades go from the tip to the tang with a smooth spine, the LMF II offers a cutting edge from the tip to the top of the downward angle on the spine (where the blade begins to angle down from the spine toward the drop point).
The knife also features a serrated proximal blade section situated just in front of the handle. This allows the knife to serve as a saw in a pinch, whether you're cutting through a branch or through a caught seatbelt.
The Handle Details of Gerber LMF II Survival Knife
Another innovation on this survival knife is the handle – it's made from glass-filled nylon with a TPV over-molded that offers a better grip while simultaneously reducing the chance of blistering from holding the knife while working.
Finally, the entire knife is designed to make turning it into a spear simple and easy – a combination of groves and holes make lashing it to a haft an easy task.
The Sheath Details of Gerber LMF II Survival Knife
It would be remiss to discuss the Gerber LMF II Fixed Blade Knife without giving the sheath some attention. The sheath is made from ballistic grade nylon with a fire-retardant coating applied. It also features two leg straps, as well as a safety knife, and a built-in sharpener for on-the-go maintenance needs.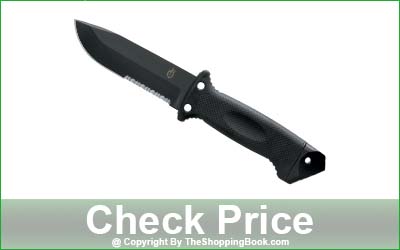 The Usefulness of the Gerber LMF II Survival Knife
The best Gerber knife was intentionally designed to be valuable and versatile in a variety of different situations. It can easily cut through seatbelt webbing, but it can also double as a hammer thanks to the reinforced, unconnected butt cap.
It's about survival, and serves just as easily as a daily-use tool as it does for camping – it can fillet a fish, cut wood, or help break out the window of a car sinking underwater. It is the Best all-around survival knife out there for the money!
[tie_list type="thumbup"]
Pros
The knife has a multifunctional sheath

The blade made of super quality steel

Half serrated blade for multipurpose use

Lanyard hole included

Rubber handle for excellent grip
[/tie_list]
[tie_list type="thumbdown"]
Cons
A half-serrated blade requires a skilled sharpener
[/tie_list]
[button color="orange" size="big" link="https://www.amazon.com/Gerber-Survival-Knife-Black-22-01629/dp/B000E3QUB6/" icon="" target="true"]Check the Latest Price[/button]
Gerber
Gerber is an American knife manufacturer based in Portland, Oregon. The company has been in business for over 75 years, and during that time, they've built a reputation for making some of the finest knives on the market.
Read More: Best Bushcraft Sharpening Stone
As always, if you feel our Gerber LMF II Survival Knife review has missed, feel free to drop us a line in the comments below.
Read More Reviews of: