Nowadays many don't have the luxury of spending time in nature camping, hiking or just having a picnic away from the city noise and polluted air. The ones who find a way to combine these activities with their everyday obligations are considered lucky ones. Also, these people know that the only way to enjoy in benefits of nature is to have the right gear. For campers and hikers (and all kinds of adrenaline enthusiasts) this gear requires, among other things, a bushcraft survival knife. In this text, we are going to review three knives from the Fallkniven family to help you find the best survival tool.
Comparison Table of 3 Fallkniven F1 vs S1 vs A1 Knives
| | | |
| --- | --- | --- |
| Click on Image to Check Price | Click on Name to Jump on the Review | |
| | | |
| | | |
| | | |
Products Summary
The Fallkniven F1, S1, and A1 are considered to be some of the finest knives that you can own today. This brand originates from Sweden and has received many recognitions for its outstanding and unique design and craftsmanship. These three are heavy-duty, multi-functional, and extreme weather-resistant knives which proved to be a must-have tool in any outdoor or survival situation.
3 Best Fallkniven F1, S1, A1 Knife Reviews
---
1. Fallkniven F1 Fixed Blade Knife Review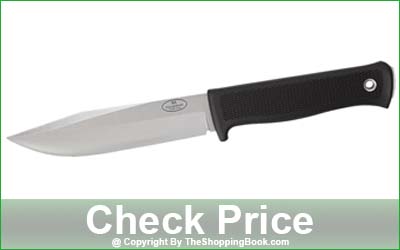 When it comes to survival tools, the Fallkniven F1 knife has not only become an icon among survival and bushcraft knives but also happens to be the official survival tool for Swedish Airforce staff as well.
This knife is sporting a truly modern design with proven field abilities and excellent overall strength, topping almost every knife in its class. Though you may not be a pilot, when the situation goes wild on your adventure, you'll know that you are safe with the F1 in your arsenal.
The Fallkniven F1 is forged by the hands of the experts all the way from Japan, and it seems that they know their job. It is made of hard-laminated VG10 stainless steel paired with the ultra-strong, yet very lightweight black Thermorum handle which I personally prefer.
I have to say that this is more like a vintage solution to the grippy handle and for a reason since it has proved itself to be very durable, but still, it will pack some extra weight to the overall design.
Even though the grip itself takes over half size of the Fallkniven F1, it still has an excellent balance between control and cutting surface. However, I find that the lanyard hole wasn't positioned to my liking, but maybe I'm just being nitpicky.
After spending some time in nature with this knife, I have to say that I'm still surprised by its beauty. With its convex edge and simple yet firm handle, the F1 is certainly one of the best survival knives I have ever owned.
Though its convex edge may be somewhat difficult to maintain, it comes razor-sharp out of the box, and surprisingly it stayed that way for a long time, fortunately. The bottom line, this is not just a regular bushcraft knife but also a professional survival and military tool.
Pros
Exceptionally strong blade

Cobalt steel edge

Keeps an edge surprisingly well

Strikes a ferrocerium rod pretty good

Durable and very simple design
Cons
Difficult to maintain the convex edge with conventional whetstones

Relatively heavy
---
2. Fallkniven S1 Fixed Blade Knife Review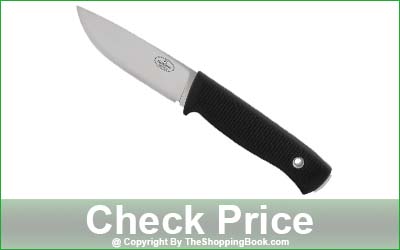 The S1 is the middle-sized sibling of this survival Fallkniven trio providing a little over an inch blade making it suitable for deeper cuts with more cutting edge.
This knife is also officially being used by elite soldiers all around the world, also approved and tested by the US Navy and Marine Corp.
So, this is not just a pretty little knife, but more like a well-designed and constructed survival tool and you'll thank yourself for owning it whenever you are in a true survival situation.
Its blade happens to be very thick and strong, providing over 350 pounds of lateral breaking strength, at the same time being very light and small enough to be carried around.
It is made of laminated VG-10 stainless steel and, as I said, it is capable of taking some serious punishment. The VG-10 steel is composed of the cutting edge and core of the blade being "sandwiched" between two parts of softer stainless steel on the sides. This means it will have a very hard edge while being extremely tough.
However, in cold weather conditions, I've experienced chipping when impacted, and this is because the VG-10 steel will become brittle in such conditions. Also, while the handle is fairly comfortable, it is on the skinny side as well, but nevertheless surprisingly nimble in hand.
In the end, just like its older brother F1, the Fallkniven S1 seemingly provides almost everything you would ask for any bushcraft knife to have without any excess.
The thickness and a full tang feature make this knife nearly impossible to destroy in the wilderness while being small enough on the go, but still a bit large to fit in a pocket. While, like with all the knives in this Fallkniven trio, its convex edge has some minor disadvantages, still this is one of the best knives I've used recently.
Pros
Thick enough to take the batoning abuse

Made of VG-10 takes a great edge

Works well for light chopping

Ideal blade size for most chores

Very lightweight with the perfect balance
Cons
Chipping with heavy use

Too small for chopping

Hard to whittle with the convex edge
---
3. Fallkniven A1 Fixed Blade Knife Review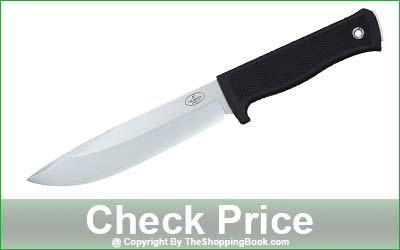 The A1 is the big one of this Fallknivenfamily, and it is meant for serious survival enthusiasts. With its almost a quarter-inch thick and full tang laminated VG-10 blade, the Fallkniven A1 provides over 500 pounds of lateral breaking strength, being strong almost beyond reason.
On the other hand, its weight with the excellent balance provided exceptional chopping ability, way more than I've ever expected from a knife of this size.
Like its brothers, it also sports a convex grind, mostly suitable for dressing and skinning, providing fine work. The overall quality of the materials, sleek design, and craftsmanship make it the real beauty of this knife family.
Having said that, do not judge it on its extraordinary looks, cause this thing outperforms all other knives in its class very easily.
I personally liked the stainless steel of this big boy, and I find it to be absolutely incredible. However, the only drawback with stainless steel is that you may have some trouble sparking flint with it, but for me – it doesn't matter much.
Featuring the Zytel sheath, it provides a nifty storage option, which is strong and attractive also. However, the knife does not lock completely into the sheath. However, the unbuttoning was not an issue, and I was able to remove it from the holster quickly.
The bottom line is – that this is a big and capable knife, strong enough to baton and chop through dried hardwood. It is refined enough to carve points, notches, and feather sticks, in other words – an all-around survival and bushcraft knife.
Yes, the sheath could be somewhat sturdier, especially when locking down the knife, but it is made of Zytel which is very lightweight and durable enough. Overall, it sums up the traditional features of the Swedish school of knife design, paired with modern materials making this knife contemporary and instantly a classic.
Pros
Sharp edge after years of use

Great wood splitting and chopping abilities

Retains a good grip in wet conditions

Very lightweight Zytel sheath
Cons
Relatively flimsy sheath

It is somewhat expensive

Does not lock completely into the sheath

The handle could be a little thicker
---
Comparison of Fallkniven F1 vs S1 vs A1: Which One is the Best for You?
The F1 is the oldest brother in this family since it was the first to be designed and manufactured. Its first use was in the Swedish Airforce since it was designed for survival and tactical purposes.
Since then, it's been known as the Swedish Airforce Pilot's Survival Knife. In my opinion, this one is the best option for all outdoor and survival activities.
Read More: Best Bushcraft Knife Sharpener
On the other hand, the S1 I find to be a mainstream type compared to the other two. It is a perfect tool for outdoor activities such as hunting and camping, and it proved to be an easy type of knife.
And lastly, the A1 is the biggest knife in this trio with a convex and broad grid which makes it a great knife for chopping. It is a heavy and thick knife that can withstand some forceful batoning.
Fallkniven F1 vs S1 vs A1 Knives' Features and Benefits Overview
Features of Fallkniven F1 vs S1 vs A1 Knives
Certainly, the best thing about the Fallkniven F1, S1, and A1 is that they are intended to last and keep going for an extended period of time. Any among these three knives could easily be the last blade that you will require for any outdoor action and both survival or leisure.
The fantastic cutting edge (literally) which will remain razor-sharp, is the feature that I liked the most with these knives. Having a razor-sharp blade that is built for heavy-duty purposes implies that it will need low-maintenance and is perfect to use every time without fail.
What's more, in spite of the fact that these three knives may look straightforward and unassuming, it should be noted that every one of these knives performed well beyond what I anticipated from them. They provided me with just unadulterated bush crafting delight.
The Fallkniven A1 and S1 which I acquired, feature identical construction and sheath as with my F1 model, yet they are also made of laminated VG-10 steel which will still beat any other knife on the market.
All three knives feature a tip to butt full tang construction that protrudes through the back of the handle. In my experience, this is a great feature since it will permit the use of the knife as a hammer if necessary. Also, the handle on all three knives is riveted in place which gives a protected hole for lanyard attachment.
The FallknivenZytel sheaths did everything a conventional leather sheath would do while providing the more secure transport of a KYDEX sheath, yet it limits carry options to a belt attachment.
More advanced adaptable KYDEX carry system sheaths are accessible from various custom sheath makers if you are in need of them. However, the standard Fallkniven sheath will do everything it was meant for while beating most other tactical sheaths.
Benefits of

Fallkniven F1 vs S1 vs A1 Knives
All of these three knives are multi-functional. They proved to be among the best tools I have ever required for every outdoor activity. Truth be told, they were not perceived as an Airforce pilot's survival knife for no reason. They can help with wood chopping, feather-stick and tool making, carving, batoning, hunting as well as food preparation.
They are accompanied by state-of-the-art yet simple and sensibly-outlined sheaths which will guarantee that the blades are adequately secured, and the user is safe and comfortable transportation as you go on your survival tasks.
All of the sheaths have drainage openings for water in case of any climate disturbance, have a simple draw, can be attached to legs, and more importantly – Are made of high-quality materials. Another useful feature is the precise sewing which is simply satisfying to the eyes.
Hardly any other knife on the market could define heavy-duty better than these Fallkniven knives. They can withstand some tough tasks and extreme climates without being influenced by them.
They can manage the rigid batoning and afterward intricate carving delights also, whenever you favor the same. Together, the handle and the blade have proven to be the perfect duo to fulfill any outdoor or survival requirements.
And lastly, they are all low-maintenance blades. You won't have to sharpen them once in a while to maintain their sharp edges. There is no need to do anything with the blade after unwrapping it from its bundle since it is ready to use separated from has a durable, gleaming, and extremely sharp edge.
Who Needs These Knives?
I think any individual who needs a multi-functional and reliable tool that will help him to survive the wilderness, or any harsh environment will greatly benefit from the Fallkniven F1, S1, and A1.
These knives come razor-sharp straight from their packages and will stay dangerously sharp for a long period of time. They have proven to withstand the cruel climate and extreme assignments such as heavy batoning and firewood chopping.
On the off chance that you are also searching for the perfect companion, in my opinion, you don't need to look any further since this trio will almost certainly be your perfect solution. They are low maintenance meaning that they will stay sharp accompanied with good sheaths, and they all have ergonomic handles which will make any survival errand simple to deal with.
They might be costlier than most blades on the market today, but, it is the single blade, which you will require as it will endure forever. From bushcraft, outdoor, camping or sports activities, hunting, even to self-defense and overall survival purposes, these Fallkniven blades have never disappointed me, and neither will you.
Final Thoughts
The Fallkniven F1, S1, and A1 are certainly some of the most expensive survival knives out there, but they also have proved to be very convenient and most importantly – dependable.
Due to their high-quality features and good performance Fallkniven F1, S1 and A1 might be a good choice for adrenalin enthusiastic who can test the knife limits or reliable an infallible part of the camping gear.
After my testing, the best bushcraft knife is the Fallkniven F1. Because of its amazing features, this knife is used by Swedish Airforce. So, Fallkniven F1 is not only a bushcraft knife but also a professional military knife.
Compared to the other 2 models, the F1 bushcraft knife has the shortest blade, but its sharpness and strength make it perfect for cutting and chopping.
Also, what makes this knife different from the other tested ones is its great balance. Perfect evenness between the blade and the grip makes Fallkniven F1 easy to use.
Although F1 is bulky, it is very light and makes an excellent choice if you are planning long walks through the wild. Overall, excellent quality and great design makeFallkniven F1 my favorite survival knife.
Read More Reviews of: