The Enzo Trapper 95 knife is a very popular bushcraft knife. It features top-notch materials and a design that is really quite streamlined compared to much of the competition. The knife retails at around $120, so interested parties may want to try one out before they decide whether they want to buy it.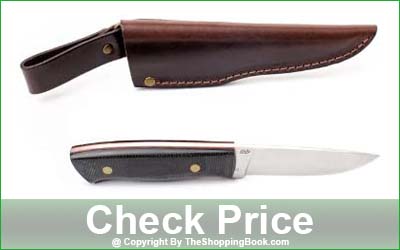 Specs
Length, Overall: 8.25″
Length, Blade: 3.75″
Steel Type: N690Co Stainless steel
Rockwell Hardness: 59-61
Tang Type: Full Tang
Grind Type: Flat
Blade Thickness: 0.13″
Point Type: Drop Point
Blade Coating: Satin
Handle Material Varies: curly birch, green micarta, black micarta
Handle Attachment: Brass Pins
Sheath Material: Brown Leather
Accessories: None
Country of Manufacture: Finland
Other Feature: N/A
The Blade of Enzo Trapper 95 Knife
This is an 8.25" long knife with a 3.75" long blade. This makes the blade a bit shorter than many bushcraft knives, but there's plenty to steelwork with, and, for some purposes, the shorter blade will prove more agile and suitable than a 4-inch or longer blade.
The blade has a slight drop point. The blade is made out of  N690Co Stainless steel. This steel doesn't show up quite as common in bushcraft blades as does 10-series steel, and it's a bit different than those steels in significant regards.
N690Co is premium stainless steel. It's a lot tougher than most stainless steels, which is definitely an advantage for bushcraft knives, given that they take a lot of abuse sometimes.
It's not quite on par with other steels, however, N690Co may not be quite as tough as some of the other steels out there, but that doesn't mean that it's weak by a long shot.
N690Co has great characteristics for wear resistance and, even though it's not quite up to the levels of true stainless steel in this regard, it is very resistant to staining.
It's easier to maintain than other steels because of this, for some users. N690Co also takes an edge quite well and gets very sharp.
It's a good steel for bushcraft applications and, if you're looking for something a bit tougher and more stain-resistant than 10-series steels, it's worth trying. Enzo Trapper 95 Fixed Blade Knife might be just the thing you've been after.
Be aware that there are some models that are made of O1 steel. This is an excellent steel, as well. It's not stained resistant like N690Co but is renowned for taking and holding a very keen edge.
Either is a good choice, but make sure you know what you're buying. The O1 steel models are advertised as having a Rockwell hardness rating of 69.
The blade material may be non-traditional for a bushcraft knife, but it definitely has some advantages to it. With proper maintenance remember that it's premium stainless steel in N690Co, not truly stainless—this knife could definitely last a lifetime and then some.
The Handle of Enzo Trapper 95 Knife
The Trapper 95 comes with green micarta scale handles. This is a great material for grip and it's also very durable. The knife has a lanyard hole to easy carry. The handle has a very nice belly to it that offers excellent grip and control, however.
The Usefulness

of the

Enzo Trapper 95 Knife
This is definitely a knife for the bushcraft enthusiast. The price point alone says as much. Beyond that, the type of user who is likely to appreciate the Enzo Trapper 95 Hunting Knife is the one who uses their knife for a lot of very detailed work but who also needs it to be tough when called for. This knife does a good job of blending both qualities.
The drop point blade is very precise and N690Co can take a sharp enough edge to take advantage of that very fine design. It's large enough for small game and for handling most tasks. Dressing game would be easy enough with this knife, as would cutting into tough wood.
Chopping potential is obviously limited, but this blade has a very refined look to it that doesn't really suggest that chopping tasks were ever considered in the design. This is a good knife for someone who is serious about the outdoors and who needs a tool that is designed to keep up with them.
[tie_list type="thumbup"]
Pros
The handle grip is excellent

Duo to higher hardness holds an edge well

It has a brown leather sheath for the belt

It comes at a reasonable price.

Highly recommended for hunting, camping, skinning
[/tie_list]
[tie_list type="thumbdown"]
Cons
The knife does not include any lanyard hole
[/tie_list]
[button color="orange" size="big" link="https://www.amazon.com/Enzo-Trapper-3-75in-Canvas-Micarta/dp/B00CSW9XOM/" icon="" target="true"]Check the Latest Price[/button]
Conclusion
Enzo is a Finnish company that has a great reputation for knives. The Trapper is one of their most popular models and has remained so for a year. Anyone who has done any kind of bushcraft before has likely thought about how it would be much easier if they had an Enzo Trapper 95 Bushcraft Knife.
It's not an inexpensive knife, so getting to hold one in your hand before you buy it is a good idea. What do you think about my Enzo Trapper 95 review? Please comment below.
Read More Reviews of: