The Classic 8″ is our top pick for the best Shun chef knife series. Its curved blade allows those familiar Western-style knives to continue to use a rocking style cutting stroke, and its high-strength steel ensures its edge stays razor sharp. If you're looking for a great Shun knife to transition to Japanese-style blades the Classic is a great place to start.
Comparison Table of 8 Best Shun 8-inch Chef Knives in the Market
| | | |
| --- | --- | --- |
| Click on Image to Check Price | Click on Name to Jump on the Review | |
| | | |
| | | |
| | | |
| | | |
| | | |
| | | |
| | | |
| | | |
Before We Get Started!
Before jumping into the various Shun models let me first speak to an issue we hear about all the time. A great many people express dissatisfaction with their Shun (or other Japanese knives) because they chip or crack.
The reason for this is very simple. These knives are designed to perform a very specific purpose. They cut softer foods like vegetables, poultry, and fish.
They are made of extremely hard steel. This leads people to believe that these knives are invincible. The reality is that hard steels stay sharp for a very long time, but they are not intended to flex. And that is exactly what happens when you try to cut bones, joints, or large hard vegetables like butternut squash.
If you stick to the intended use of these knives they will serve you extremely well for a LONG time. If you have no intention of using them only for their intended purpose you're better off just buying a Western-style chef's knife.
Top 8 Shun 8-inch Chef Knife Reviews
1.

The Shun Classic 8" Chef's Knife with VG-MAX Cutting Core and Ebony PakkaWood Handle
The Classic 8″ from Shun is one of the most popular knives in the world. It has a VG-10 steel core and is clad with 32 layers of high-carbon Damascus stainless steel. The layered surface helps keep sliced foods from sticking to the blade.
This knife has a 16 degree per side blade angle. This makes it considerably sharper than most Western-style knives that are typically 22 degrees per side.
The Classic from Shun is exactly that. It's a fantastic chef's knife. The rounded blade allows for rocking-style cutting. The hard steel allows it to keep sharp edges for a LONG time. Simply honing the knife before each use allows it to go months or years without needing a sharpener.
As with any hard blade, it is prone to chipping if used improperly. If you're planning on cutting softer foods with this knife it will blaze through anything you feed it. For more information see our full review of the Shun Classic.
Read More: Best Wusthof Paring Knife
Pros:
Razor-sharp edge

High strength steel holds an edge for years when used properly

Glides through softer foods like vegetables, poultry, and fish

Patterned blade keeps food from sticking
Cons:
Not to be used on hard vegetables, joints, or bone

Proper cutting board required. no stone or marble

Can chip if used improperly

"Dishwasher safe" but should be hand washed and dried
---
2. Shun Classic Stainless-Steel Chef's Knife 10-inch with Sharpener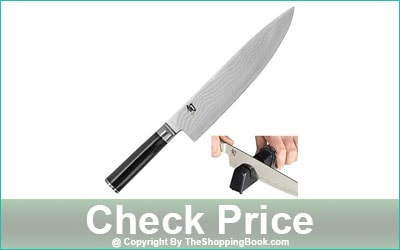 The Shun Dual Core 10″ multipurpose Kiritsuke knife offers 71 micro-layers of alternating VG10 & VG2, high-carbon, high-chromium stainless steel. The dual-core construction ensures that both sheets of steel go all the way to the edge. The blade is thin and strong, weighing just 6.9 ounces.
Other than the fact that the Dual Core is twice the price of the Classic it would've won the competition hands down. This knife makes cutting any kind of meat feel like gliding through warm butter. We're not sure if the "micro-serrations" legitimately add anything to the equation, but the blade truly offers effortless cutting.
Don't Miss: Ceramic Paring Knife
The strength of the 71 layers of high carbon steel knife is seriously impressive as is the lightweight and perfect balance. The sheath that came with our model didn't fit well at all, but if you keep yours in a block this shouldn't matter.
All in all this knife is as close as you can get to using a lightsaber in your kitchen. If only it didn't come with an out of this galaxy price. 🙂 That said, if budget isn't a concern, or if you want a knife that offers the absolute best performance, you'll be hard-pressed to find a better one than the Dual Core.
Pros:
The two sheets of steel wear at different speeds causing micro-serrations that enhance sharpness

Glides through proteins and any type of vegetable

Perfect balance

Lightweight but incredibly strong
Cons:
Very pricey

Sheath fits poorly
---
3. Shun Sora Review – 8″ Chef's Knife
The Sora is a more entry-level offering from Shun. The curvature of the blade is pushed further toward the tip of this model. It uses VG10 steel and has a 16-degree blade. The handle is made with a polymer rather than real wood. It is very lightweight coming in at just 6.6 ounces.
Given the fact the Sora has supposed to an entry-level knife, it performs remarkably well. It doesn't offer the same blade strength as the more expensive models, but it still uses a VG10 core sandwiched between two layers of stainless. At 16 degrees the blade is razor-sharp and will glide through anything you throw at it.
As always this knife should be used appropriately. Dig into it online and you'll see a handful of complaints that the blade chips easily. These same people go on to mention using it on something like a butternut squash which causes the blade to flex and chip.
The handle is ambidextrous but doesn't feel as solid as many of the wooden handles on the more expensive models.
If you use it on tasks for which it was intended this knife will retain a sharp edge and serve you for a long time to come. And with a price that is around half some of the other blades in this comparison, it is a great value. For more info, you can read our full review.
Pros:
Very affordable

The handle offers a good grip even when wet

A more traditional handle is good for left or right-handed users

Very lightweight at 6.6 ounces
Cons:
Prone to chipping with improper use

The handle is comfortable but less durable than the wood used on more expensive models
---
4. Shun Ken Onion 8″ Chef's Knife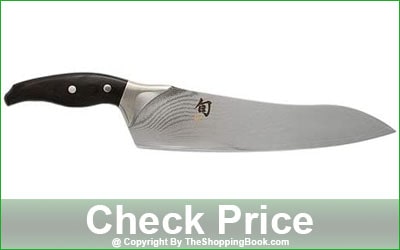 The Ken Onion edition of the best Shun Chef's knife is a significant departure from their traditional design. The overall length is 12.75″. It utilizes a VG-10 steel core with 32 layers (16 per side) of stainless cladding.
The curve of the blade is along the lines of most Western-style knives. It features an ergonomic handle that is designed to increase comfort and reduce fatigue.
The Ken Onion edition offers a very impressive design. It looks a bit strange, but it fits surprisingly well into both left and right hands. The bolster (where the blade meets the handle) is a significant departure for a Shun knife. It offers an ideal position to hold the knife for those that prefer the pinch grip.
While the curvature of the blade seems a bit extreme at first, the knife was extremely fluid during rocking-style cuts. It practically encourages this cutting style. It is of course razor-sharp, offering a 16-degree edge. The VG10 steel helps to keep this steep angle sharp through extended heavy usage.
The blade will chip if used on harder foods. Again this is because harder steels don't flex well. Keep that in mind and you won't have any issues.
Overall we were impressed with the Ken Onion. It's a much higher price point is why it didn't make the top 3, but the ergonomics make it extremely comfortable to use. It has been discontinued, but of course, is still supported by Shun.
Pros:
Very well balanced, balance point at end of the blade guard

The ergonomic handle was very comfortable both left and right-handed

Beautiful design

Blade curve makes rocking extremely smooth
Cons:
Blade scratches easily

Has been discontinued

Hand wash only

The tendency to chip when used on harder foods
---
5.

Shun Premier Kiritsuke Kitchen Knife, 8 Inch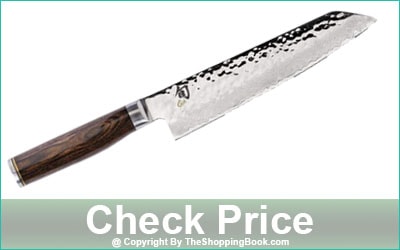 The Kiritsuke is a multi-use Japanese knife. It has a double bevel, a flat ground blade that offers excellent durability. Like the two other 8″ knives we've covered, it has a 16-degree cutting angle. It offers 64 layers of stainless cladding (32 per side)
The Kiritsuke handles remarkably well. The additional layers of steel cladding make it feel very solid without being heavy. As with the standard Premier 8″, the finished look is remarkable.
You May Like: Kitchen Knife Set
The curvature of the blade on this knife is slightly different than on traditional Western chef's knives. This changes the motion necessary to chop and slice.
The VG-MAX steel core offers a very durable edge that will last for months without sharpening. While still not as durable as softer Western knives the Kiritsuke will handle a bit more abuse than its relatives. All in all, it's a fantastic knife and is typically priced relatively close to the Classic.
Pros:
Additional strength from 64 layers of cladding

Less prone to chipping than other models (especially the standard Premier)

VG-MAX high-grade steel core offers long-lasting edge retention

The handle is surprisingly comfortable
Cons:
As with the Premier, you're paying a premium for looks
---
6.

Shun Cutlery Premier 8" Chef's Knife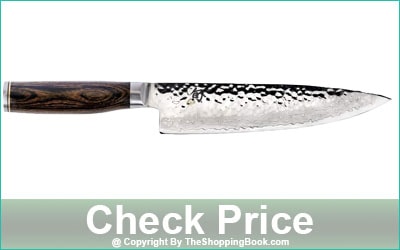 The Shun Premier offers a beautiful, Tsuchime hand-hammered finish. Looks beautiful but also helps in keeping foods from sticking. A hollow ground surface offers less resistance when cutting. The curved blade allows for rocking-style motion. VG10 steel clad in Damascus. 16-degree blade angle.
While we wanted to love the Premier lines version of the 8″ chef's knife, we couldn't find any significant reason to justify the higher price. Without a doubt, it is a beautiful knife, but it is price significantly higher than the classic knives and we found the performance to be equal at best.
If you are willing to pay the extra price to get the hand-hammered or "Tsuchime" look then by all means go for it (or perhaps the Kiritsuke which offers a stronger blade). But for our money, we preferred the Classic. For more information check out our full review of the Shun Premier 8″.
Pros:
Comfortable grip with Pakkawood handle

Sharp low-drag blade design

The hammered finish provides less resistance when cutting

Very lightweight

Downright beautiful
Cons:
Pricier with little additional performance

"Dishwasher safe" but needs to be hand washed

The thin blade can handle VERY little abuse
---
7. Shun Cutlery Kanso 8-Inch Japanese Gyuto Style Chef's Knife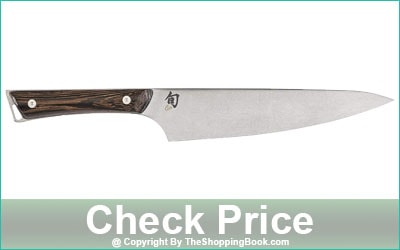 For those looking for well balanced and minimalist design, the Kanso is a terrific knife. The Kanso offers a full tang design meaning the metal of the blade extends all the way through the handle. The handle is made of wood and offers a comfortable grip for extended usage.
The weight of the knife is well balanced at the center and provides for a very easy rocking motion.
Pros
Blade made of AUS-10A High Carbon Stainless steel

Full tang blade

Perfect balance and well design

Beautiful wood Handle
Cons
The wooden handle broke quickly
[button color="orange" size="big" link="https://www.amazon.com/Shun-SWT0706-Kanso-8-Inch-Chefs/dp/B019ISKF9A/" icon="" target="true"]Check the Latest Price![/button]
8. Shun Reserve Hollow-Ground Chef's Knife
For those looking for a quality Japanese knife with performance more like a Western-style knife, there is the Shun Reserve 8″ chef's knife. It offers a beautiful Damascus blade with 32 layers of nickel and stainless steel.
The first thing you'll notice about this blade is that it is taller than most Japanese models. This is designed to mimic a traditional Western chef's knife. The weight and balance are also more similar to Western models.
This knife also offers full tang construction for a very durable build. While it is heavier than most Shun models it is ideal for those that are looking for the perfect blend of East and West.
Pros
Made of Damascus with 32 layers of nickel and stainless steel

Full-tang blade

Handle made of Pakkawood & crimson striation

Excelente balance & great cutting power
Cons
[button color="orange" size="big" link="https://www.amazon.com/Shun-Reserve-ND0747-Hollow-Ground-6-Inch/dp/B004YG7D9C/" icon="" target="true"]Check the Latest Price![/button]
Care and Maintenance:
If used properly all of these knives should require only honing every few uses. This can be accomplished with any decent honing steel.
When it comes time for sharpening you'll need to use a sharpener that can match the blade angle of 16 degrees. This can be accomplished in several different ways.
The easiest method would be to send them to Shun. They will sharpen them for free for as long as you own the knife. You will only be responsible for shipping.
You May Also Like: Cuisinart Knife Set
The second method is to use an electric sharpener that can match the blade angle of the Shun. The Edge Pro from Smith is one unit with these particular capabilities.
Finally, you can invest in a manual knife sharpening system with an angle guide. This will allow you to use sharpening stones. This would be our preferred method unless you're willing to part with your knives while they're away from being sharpened.
Final Thoughts:
Though we've mentioned it before, it's worth stating again that you must use these knives as they were intended or they will quickly become damaged.
The benefits of the harder steel used in Shun knives are what enables them to keep their razor edge for so long. But this hardness comes with a price. If you intend to use your foods on harder foods save yourself some trouble and buy the best 8-inch chef knife.
But if you want the best Shun 8 inch Chef knife that will glide through vegetables, meats, and fish, our top three are absolutely superb choices. After a few uses, you'll wonder how you ever got on without them.
Read More Reviews of: