All knives we looked at were of outstanding workmanship as expected by the brands. We think you'll agree that you can't go wrong with any of these knives. Having a good bushcraft knife in the wilderness is a must for any serious bushcraft enthusiast. We took a look at multiple knives from a number of manufacturers and came up with the 3 best choices in bushcraft knives.
Comparison Table of 3 Best Bushcraft Knives in the World
| | | |
| --- | --- | --- |
| Click on Image to Check Price | Click on Name to Jump on the Review | |
| | | |
| | | |
| | | |
Top Bushcraft Knife Reviews
1.

Morakniv Bushcraft Stainless Steel 4.3-inch Fixed-Blade Survival Knife with Fire Starter and Sharpener
Morakniv (commonly known as just "Mora") are some of the best cheap bushcraft knives under $50. Made in Sweden, they have become popular in the survival community for both high performance and affordable prices.
At around $50, the Morakniv Bushcraft Stainless Steel Survival Knife with multifactorial sheath is a quality knife that fits in most survival enthusiasts' budgets.
Made of Sandvik steel, known for superb hardening and blade sharpness retention, this knife follows true to the reputation of being a sharp knife that can take some serious abuse.
Read More: Best Bushcraft Knife Sharpener
The only major complaint about Mora bushcraft knives is that most are not full tang. In fact, very few of the outdoors/survival knives from Morakniv are actually full tang.
The Morakniv Bushcraft Knife is a custom "3/4″ tang rat tail design that does run most of the length of the handle. This lack of additional steel is a likely contributor to the lower price point compared with the other knives we tested.
Overall, we feel this is a great knife considering its lower price which makes it easier to get into a decent knife at about half the price of other knives. For a novice survivalist on a budget – this is the knife for you.
---
2. Ontario Black Bird SK-5 Bushcraft Knife With Sheath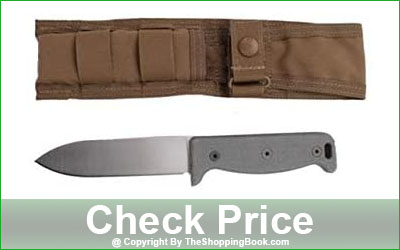 Despite the potential name confusion, Ontario Knife Company is a Franklinville, NY company making high-quality knives of American 154CM steel.
The Ontario Blackbird SK-5 is just straight up one SERIOUS outdoorsman knife that will impress even the most hardcore bushcraft enthusiast.
With a 5-inch blade, the SK-5 is the largest of our tested knives and carries a weight that matches the larger blade. Though longer and heavier than others, this size and weight are managed with superior balance and handling.
This knife is the kind of knife that will take a regular beating day in and day out with regular care and maintenance. The larger size and weight make this knife more superior in bushcraft applications, particularly those that require chopping or splitting.
While the blade tip makes smaller delicate slices more difficult, this is the outdoor knife for most "large knife" needs.
In the end, this had to be our pick. This is the best bushcraft knife under $100 that straight outperforms! The larger blade made serious woodworking an easy task, and we straight out prefer the sheath as a personal preference, particularly over Mora's plastic sheath.
---
3. Spyderco G-10 Plain Edge Bushcraft Knife with Leather Sheath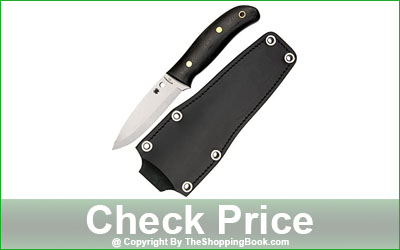 Like all the manufacturers we reviewed, Spyderco is another top name in bushcraft knives. Known for innovative design and engineering, these knives are generally of immense quality and built to last.
When we looked at the Spyderco Bushcraft knife, we found that to be absolutely true. While not our preferred pick due to its smaller blade size and higher price, this knife is most certainly worth its cost as an overall survival knife.
With a blade length even smaller than the Mora, the Spyderco G-10 felt slightly undersized for many larger bushcraft projects that included the need for batoning.
Though designed to withstand the force required for such uses, the smaller blade made it harder to get a quality hit, particularly when working with slightly wider width pieces.
Overall, this is one of the highest quality knives we've ever had the opportunity to review. But at a price of nearly $200, we find it too expensive to be just your best bushcraft knife for the money.
---
Conclusion
In our review process, we found 3 very different options on multiple dimensions, but the most interesting difference was plainly in size and price. Each of the knives represented here sits in drastically different price points – ranging in the ~$50, $100, and near $200 ranges. Though inexpensive, the lowest priced knife we reviewed should not be considered "cheap" at least in regards to quality.
Read More Reviews of: