Why does anyone want to have the best Benchmade knife? Why anyone trust Benchmade Company? It's the work that goes into making a product that makes it something special.
When it comes to knives, those made by the Benchmade Knife Company are considered among the best knives on the market today.
Benchmade is a leading manufacturer of knives, including pocket knives and modern high-tech combat knives. The knives are known for their craftsmanship, as well as one unique design feature found on every Benchmade knife.
Every knife is designed to be opened and closed quickly with one hand. Here's a closer look at what makes Benchmade knives something special.
History of Benchmade Knife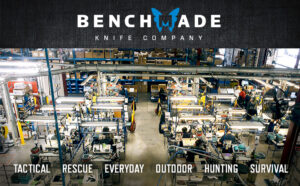 Benchmade Knife Company, Inc. was first established in Clackamas, Oregon in 1990. The first knives produced by the company were Bali-Song knives.
These knives were created using internal processing to create knives with additional assistance from outside vendors to complete the process.
It didn't take long for Benchmade knives to develop a solid reputation. As a result, the company grew and prospered. Eventually, Benchmade's product line grew considerably.
The company's in-house manufacturing capabilities also grew to accommodate the increased demand for Benchmade knives. This growth included acquiring new machines and fine-tuning the technologies used in the manufacturing process.
These new machines include lasers, which made Benchmade the first knife company to use laser-based equipment as part of the in-house manufacturing process.
This was just the beginning of the industry innovations pioneered by Benchmade. Additional industry innovations initiated by Benchmark Knife Company include:
• Design and marketing innovations to create easy-to-use tools and weapons
• The ability to open and close all Benchmade knives with one hand for ease of use
• The use of materials such as G-10 to make the handle more durable
• The use of materials such as 154 CM and S30v to create durable stainless steel blades
Qualities of Best Benchmade Knives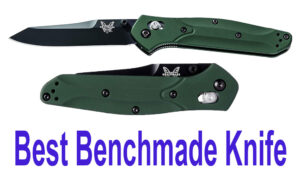 These innovations have helped Benchmark's line of top-quality pocketknives set new industry standards.
Leading the way for innovation in the United States, all Benchmade products are fully made in the U.S.A. Qualities that make a Benchmade knife standout from other knives on the market include:
• A commitment to continuous innovation when it comes to manufacturing and processing• Durable designs that extend to every knife manufactured by Benchmade
• Easy-to-use features that allow for all Benchmade knives to be opened and closed by one hand
• A wide selection of knives combat and utility knives designed to be a cut above the rest due to an extensive in-house manufacturing process
• A focus on putting the customer first by creating the best product on the market and being able to back up that claim
Types of Benchmade Knives
Benchmade makes a variety of knives, tools, and accessories. It's certainly a big improvement since the company's early days.
It's a commitment to customer needs that keeps Benchmade producing innovative designs. Here are some of the knives sold by Benchmade: Knives & Safety Cutters
• 3150-121 Impel – A tactical gentleman's auto folder with features such as an Etched Mike Norris Crazy Lace blade and a hand-blended titanium handle.
• Mini-Morpho Bali-Song – A lightweight flipper featuring Benchmade's patented spring-latch locking mechanism accented with a laser engraved titanium pocket clip.
• 4502 Prestigedges – These kitchen knives are characterized by single piece full-tang 440C stainless steel blades.
Note: This is a random sample of the more than 200 knife selections available through Benchmade's website.
Accessories and Tools
Benchmade offers a variety of accessories and tools for its knife products. The most common accessories include carrying cases, pouches and sheathes, tool kits, and key chains.
Stickers and decals are also popular for customers who wish to personalize their Benchmade knives. An assortment of sharpeners allows for easy care of blades. Novelty accessories include coffee mugs and product displays that can be used to proudly display a Benchmark knife for all to see.
Blade Materials
Part of what sets knives made by Benchmade apart from other knives on the market is the quality of the materials used when producing these knives.
The most important part of any knife is the blade. A satin finish is used to create a low-luster sheen for all knives. Some of the forms of satin finish used by Benchmade include:
• Stonewash – Helps mask any scratches incurred from use.
• Scotchbrite – Softly blends the grinding lines.
• Tumbled or Vibed – Leaves the blades bright and smooth.
• Burnished – Refines the blade surface.
• Hand rubbed – Creates a graining that goes from tang to tip. Polished finishes help with corrosion resistance. A polished finish smooths out any small peaks and valleys that are usually unseen by the naked eye. It's this extra attention to quality that makes a big difference when it comes to the finished product. Bead blast finishes are added to roughen the surface of the blade for anti-glare purposes. Sometimes called a "military finish," a bead blast finish creates a non-reflective surface that is desirable for knives used for combat purposes.
Blade Styles
Blade styles further emphasis the commitment to quality that is symbolic of knives made by Benchmade. There are five basic blade styles used to create Benchmade knives. Each style has certain features that make it a good choice for certain models.
• Tanto – Characterized by a high point-in-line with the pivot. This type of blade features a flat grind applied to the point. The result is a strong point to the blade.
• Drop-point – Characterized by a convex-curved drop. This type of blade lowers the point of control, which makes the blade especially good for slicing.
• Clip-point – Characterized by a profile that is "clipped" to bring it down. This type of blade is usually used for bowie knives.
• Sheep's foot – Characterized by the lack of point on the tip. This type of blade is great for slicing or cutting someone free from entanglements.
• Heat-treatment – Characterized by the use of a Benchmade "special recipe" involving the heating of the blade. This process creates a toughness to the blade that enhances performance.
Read More: Best Bushcraft Knife Sharpener
Handles and Scales
Handles and scales are the last pieces of the puzzle when it comes to creating a Benchmade knife. There are various styles of handles and scales used to create a unique look for each knife. Some of this include:
• Carbon fiber – Set in resin, this material is used to create weave patterns.
• Cocobolo – A tropical hardwood that produces an orange to reddish-brown hue.
• Stabilized wood – This refers to various hardwood veneers treated with special dyes.
• Micarta – Made from layers of linen cloths soaked in resin to produce rich color.
• 6061 T-6 aluminum – Considered an airplane grade aluminum, this material produces a solid handle without adding too much additional weight
Clearly, it is the quality that sets knives made by Benchmade Knife Company apart from similar knives by other manufacturers. An argument can be made that it's the company's innovative manufacturing processes that really make Benchmade knives so durable and stylish.
It's this continued commitment to quality that has helped make a once small company a leader in the industry for more than 20 years now. Find the best Benchmade knife at Amazon is not hard.
Read More Reviews of: